Readiness, recovery, sleep, etc. are all critical for performance. And it's a big booming tech industry right now with devices and apps flooding the space trying to get a slice of the fitness and high performers world.  It doesn't just apply to athletes but to everyday people aiming to perform at their best.  Because who doesn't want to feel better than worse in daily life; am I right?
But are these devices and their measures valuable and steering us in the right direction?
Generally, I'd say yes. I'll dive into the key principles of these wearables from both a coaching perspective, but then also as a user.  My general take on these devices from the outside looking in as a coach that saw the daily reports with athletes was pretty simple; awareness!  But then there are some drawbacks and limitations. 
Attention brings intention
This is me sounding like a yogi.  It's only going to bring your attention to the habits, behaviors, and flaws that you have.  You're the one that's going to conjure the intention to address those things.
Results can only be as good as data collected 
Is the data set complete and is it capturing all the information necessary in your case? And do you have a sufficient duration of data?   
Early on before the widely available devices, I personally used 3 different HRV (heart rate variability) apps simultaneously for 3 years to establish a data set. I also actually spent time on the phone with the CTO (chief technological officer) of one of those companies as well as in email correspondence to the founder of another to gain a better understanding of best practices for athletes, processes, and the supporting research. 
What I saw was each produced a different absolute "readiness" score, but with repeatable process and with the correct recording device, the results tracked for that platform. But comparing different platforms or readiness reports were apples to oranges.. I'm not suggesting you go to this extent and you shouldn't have to, but as a coach, I'm not just implementing things that are vetted or possibly a wasted effort.
**It's worth noting, after I'd written this and just before publishing; one of the major wearable platforms changed an internal algorithm that resulted in quite a change in how sleep was tracked as well as the resulting readiness.  I question if you can just change an internal calculation on the raw data recorded; how accurate can these be? 
Are the recording devices accurate?
I've seen from some research, most of the validity came from actual higher end heart rate straps that record the actual beat to beat electrical signals at the source.  Think of an actual heart rate strap compared to optical based heart rate recording at the wrist, forearm or finger.  Maybe they have improved, but still this wasn't validated nor as accurate.  This was also conversations with the direct founders and CTO's of these original companies.   Optical heart rate measurements are an indirect method of deriving heart from oxygenated blood, not a beat to beat measurement.  
I've written some other articles based on personal testing a wrist based on an actual heart rate strap and can say that I agree with the sports scientist field joke of them being best utilized as a random number generator at best.  
Too early or not enough readings
Devices/apps (like the Whoop) warn initially of the inability to calculate readiness due insufficient data that is supposed to improve over time.  I respect this since you want sufficient time to create an individualized baseline.  
The problem with this is often we as consumers are impatient.  For companies that wish to make us happy and sell their product, they produce this score and report too early.  When I tested it personally I was surprised at the recommendations.  Leading me to my next two points. 
Misleading Feedback
Early on the suggestions would have had me overreaching (if not overtrained) and under-rested.   I was being informed I was achieving optimal sleep showing me consistently greater than their recommended 100% and thus the suggested bedtimes kept being proposed as later and later after the 11pm range. When I felt tired and ready for sleep much earlier. Some users seeing this would think, "oh I've got a sleep surplus to pull from so I'll sleep less," thus getting them into an under-rested downward spiral very quickly.   It was also informing me of optimal recovery days when I was in fact physically sick or when I felt the most fatigued after a hard days session.  Which segues to that second point.
Don't let the data override how you really feel
Nothing overrides your subjective perception.  We have been gauging this level of readiness for ages without something constantly tracking our body with an algorithm reporting in an app to inform us.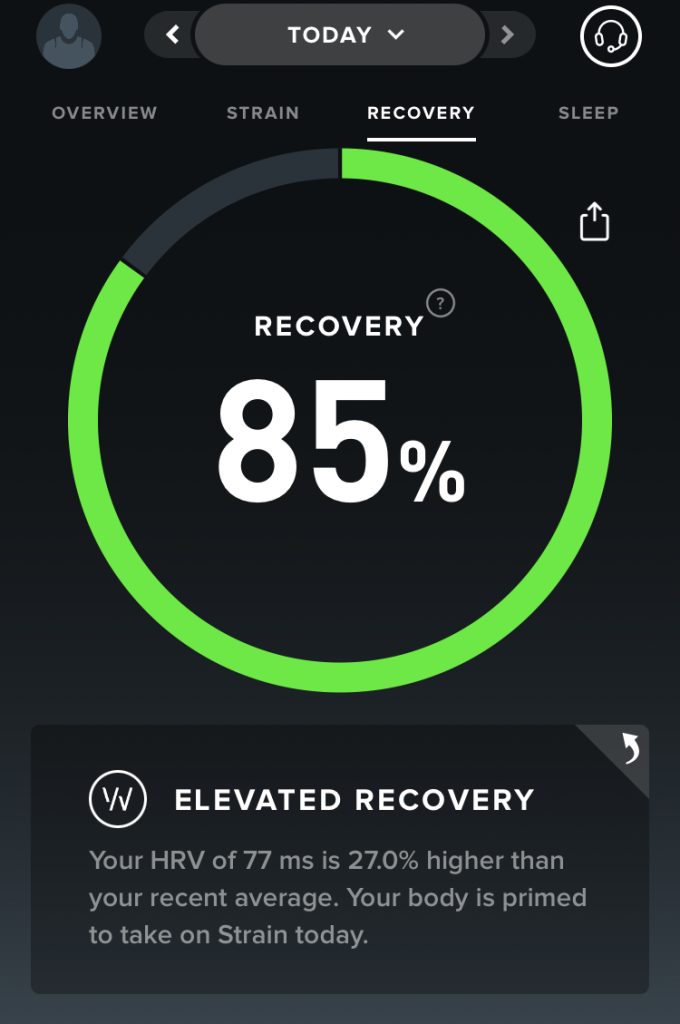 Often if the biometric feedback was suggesting a green light for readiness, I'd let it serve as a queue to lean my perception a little more optimistically.  And likewise, if the readiness was suggesting a lower recovery score with a deeper yellow caution or red light; I'd let my perception be open to sway a little more conservative on the day.
Mindset matters
If your mindset works like the latter allowing a little more grace to complete or modify your session to match your readiness, it can be beneficial. But conversely if you see the green light and your perception is still under-recovered and you override your perception with the "data says X, so I better harden up" with the no pain no gain mentality, then it could serve you negatively.  
So be careful on how you perceive and thus implement the data. Speaking of data versus perception…
Intentional practice versus continuous monitoring 
I found data that is continuously monitored can be valuable, but often the lack of intention overlooks a key aspect, the intentional practice of becoming honest with self-reflection.  It's similar to an athlete turning on erg mode and zoning out for a session versus tuning into the session.
I noticed that when I or athletes I coached performed the HRV readings with apps, it required a dedicated practice. Kinda like the days of recording your training in a journal or even downloading it before the days of immediate device syncs.  Setting aside a recurring time to take those several minutes to record an HRV session to produce the reading.  Often this was in the morning, upon waking.  Again a repeatable baselining habit.
This practice also doubled as an intentional meditative practice that had results in and of itself.  But also when a device is constantly recording that creates a positive and negative.  A positive in the sense that it captures a wider band of data, but also a negative in the sense of detracts from the process of waking and asking "am I ready now?".  This in-the-moment question poses both literal value with that intentional reading, but also subjective value capturing individual perception. 
A positive is the devices often queue athletes with a sleep & workout questionnaire for each recorded session that captures the subjective.  But I don't know if it's taken into account for the score produced from the data. 
Accounts for cardiovascular strain well
Since the devices are tracking heart and respiratory metrics the devices usually account for endurance training quite well.  Dare I say better than some athletes would subjectively account for themselves because of the discredit or detachment from what low, moderate, and high intensity actually are.  By this I mean; often people will exercise in that gray zone and since it wasn't an interval session or have specifics, they'll discount it as "not hard".  Whereas the strain it produced was significant and requires attention to recover and thus reported in the subsequent readiness score. 
Doesn't account for strength training well
But conversely as a NSCA (National Strength & Conditioning Assoc) CSCS (Certified Strength & Conditioning Specialist) and an avid promoter of lifting for endurance athletes, it grossly underestimated the demands of the strength sessions. First-off the device failed to even recognize it as a form of exercise when other forms like running or cycling would automatically be segmented.  *This was actually the same for walking for me, but that's the perk of being pretty highly aerobic trained in the grand scheme compared to the normal population.
I think this is known, since they state this on the FAQ on their site here, although it's not advertised nor apparent and kinda hard to find.  
"WHOOP Strain specifically measures the cardiovascular load on the body. This means that Strain is directly influenced by heart rate elevation.
Cardiovascular training increases your heart rate for longer periods of time. Therefore, cardiovascular training increases your Strain more rapidly than anaerobic exercises, such as weight training."
I was shocked to stumble upon some online threads recommending to increase the intensity of the strength sessions with higher reps, less rest, etc. which will elevate cardiac response in an attempt to what I'll coin "chase strain".  When in actuality this defeats the purpose of strength training and ultimately changes the workout intent and outcome.  
I'm not saying a circuit workout is bad, but turning a dedicated strength session into a cardiovascular session often isn't the goal.  Especially for an often already endurance trained athlete, they're looking for just the opposite outcome.    
If an athlete is expecting to rack up strain from their strength sessions, they won't.
If they try to, then they miss the point of that mode of training; gaining strength.
And if they discount the effects of strength sessions and try to overlook the resultant muscular strain, then they may go into subsequent sessions still carrying muscular fatigue. 
For example, when I've strength trained and completed a challenging set of a multi-joint fundamental exercises like a set of heavy squats or deadlifts; I felt out of breath and completed reps to the point of volitional failure, while my heart rate barely reached Zone 2 according to the device. I often do paired or triple sets that alternate different muscle groups for the sake of time, which often keep HR elevated more than the standard "lift then rest" format.  Still didn't even register a session nor produce a significant strain equating to even a very easy 1 hour Recovery ride.  If I were to try to keep "chase strain", I'd change the dynamic of the workout. It's not all bad news though, there's a point below of a possible positive.
But in my experience, endurance work can often be executed even carrying the infamous DOMS (delayed onset muscle soreness) if the athlete can wrap their head around being sore but still being able to produce concentric power.  It's just worth noting that endurance and strength work express competing pathways for adaptations, so doing endurance to close after strength work can "shut down" the response you're working towards.  But that's a whole other rabbit hole.
Extras caught in Casting a Wide Net
On the flip-side, your real-time cardiovascular response during the strength session may not be that elevated, but strength training does elicit some lasting metabolic effects that the devices casting a "wide-net" by recording continuously may capture.  Similar to HIIT (high-intensity interval training), strength training boasts of the ability to increase metabolic demand long past the session.  This can be attributed to the concept of EPOC or excess post-exercise oxygen consumption, which is basically your oxygen-debt or the body's increase of metabolic functions above baseline before it returns to its basal level or homeostasis.
It boils down to this; work out intensively and the body will keep body systems elevated for an extended period of time afterward.  Often this can be 12, 24, even 48 hours after demanding strength or HIIT sessions.  It's the gift that keeps on giving and that which is often likely captured with these 24/7 wearable. 
The take away to perform
There's lots of information contained above, some drawbacks, some perks and a lot in-between, but my goal is always to provide actionable steps from the information. 
Ask yourself; how do I feel?
Often you know you best.  The world of monitoring and analyzing biometrics is still relatively new so often some real-time reflection serves you best.  Do you feel energized and ready to tackle a challenge? Did you sleep well?  How is your appetite? 
The Stairs Test
This is an oldie, but often reliable method of simply how you feel when walking up or down stairs.  Do you feel sluggish and ache or are you snappy and fresh?  There are levels between and often times when a certain level of sluggishness is expected within a cycle of overload.  I know in stage races like USA Pro Challenge, Breck Epic, or Pikes Peak APEX, I'd dread the stairs, but you live to fight another day as the race goes on with or without you. 
Check your Heart Rate Bandwidth
I often use what I call a heart rate bandwidth for myself and athletes I coach.  This is the range between maximal heart rate (MHR) and resting heart rate (RHR).  With training and adaptations rHR can trend lower (lower isn't always better) and with freshness the mHR can be responsively high.  If that bandwidth shrinks with either RHR elevating, MHR being suppressed, or problematically both moving inward; there is reason for attention. 
How Responsive is your Heart Rate?
Is your heart responsive or "variable"?  Meaning; does heart rate rise and fall at an appropriate rate for you when load/strain is applied and removed.  
Think of it like performing intervals and recovery for a workout.  When you ramp up to the prescribed intensity (power or effort) does the heart rate respond and track with the PE (perceived effort).  And likewise during the recovery between interval (RBI) does the heart rate drop?
If the HR is slow to respond and/or incapable of reaching normal readings for that type of effort then that is reason to be aware. Also if HR won't fall between efforts that's another concern.  I call this Heart Rate suppression and staleness respectively. If both occur, that should definitely raise a flag and turn you to the question; "how do I feel?" if you haven't already.  
If PE is normal seeing either of these in isolation; it's often part of the stress and recovery cycle and often desired or planned.  But if PE detaches and is significantly higher while seeing both of these things or repeatedly with one of them, then that is a definite sign of caution and attention needed.  I call this being stale or unresponsive and usually a sign of overreaching and a definite sign for needed rest. 
Intentional practice
I found the process of doing a 3-5 minute HRV session more beneficial than the constant tracking that occurs with the convenience of a device.  Even if it's for a phase to bring your awareness to the practice, but also I think for the accuracy.  Maybe when you have a phase change you can track for a stint to encompass a rest week and subsequent build to bring awareness to the process and changes.  Key is taking enough readings to see a trend, but then taking a break. 
Don't become slave to the data
I firmly believe we aren't meant to be "hooked up" all the time; having devices recording our every move and breath.  So unplug and disconnect and don't be reliant on having that data all the time.  It will force you to ask the right questions and reflect on the subjective.
Note the trends; Take action  
There's a coaching phrase "that which can be measured, can be monitored" which I think is key here.  Use the tools to capture some of those trends with the intent to experiment and implement things to improve the basics.  
We know sleep, nourishment, stress, and exercise all affect your performance.  So what can you do in those areas to improve AND are you willing and able to? For example, if you see alcohol negatively affects you and performance, but are you willing and should you change? 
You may enjoy having a drink with dinner, or maybe a post ride social? In some cases the social connection may be more of a positive on the psyche and thus outweigh the absolute removal.  Maybe it does encourage you to cut down from multiple drinks to only one or change the timing.

What about if you see that your sleep could improve with more normal sleep and waking times but you're a shift worker?  You can't change that unless you change jobs or careers.   but won't change, what good is the device?
So act on what you can with intent to make impactful changes in those areas you're willing.
Can you really utilize the feedback?
This is often a fundamental flaw of our demanding schedules and often the inability for much flexibility.  If you can only train long on a single weekend day and your readiness suggests otherwise, are you really going to do otherwise?  And really should you?  It would be like waking up before your key event or goal with a poor readiness score and saying "Nope,not toeing the line today!"  What!? 
In coaching, I call this riding the waves.  Often training in a sub-optimal state at times can help build resilience and often part of my intentional programming.  So there will be days of less than optimal readiness you just have to pony up.  Conversely there should be days of optimal readiness when you aim to nail the best quality on that day.  And hopefully with long term habits of honest self-reflection, you harness more of these good days and less sub-optimal ones with this awareness.  
I hope this deep dive serves to be helpful and actionable and always keep up with me for more articles, coaching, consultations.